Cupcakes are brilliant aren't they? Big enough to satisfy a sweet craving, but small enough that they make the perfect sharing treat which is why, we've been scouting out the best cupcake bakery – that's also Halal Certified, for our Muslim friends and families!
While a great big birthday cake is always a great way to mark a celebration, cupcakes are the perfect sweet treat to have delivered for nearly every occasion – whether celebrating an anniversary, engagement or a new job. Or perhaps you just want to send cupcakes to a friend to brighten up another dreary day in pandemic. Whatever the occasion, we have rounded up the best cupcakes bakeries in Singapore.
From gooey chocolate cupcakes, to personalised cupcakes that can be delivered the next day, there's something for all.
1. Butter Studio
 was founded upon the belief that every milestone in life is always worth celebrating.
Inspired by the time-tested recipes from the grandmothers, they are dedicated to honor the tradition of artisan handmade goodness while infusing a uniquely local and playful spin on familiar home-style bakes.
Their beautifully crafted bakes are not only picture worthy and are also produced with utmost care and thought, with hope to spread joy to every occasion!
Can't deny that Butter Studio's bakes are super cute. I love the unicorn horn detail, and the frosting piped to look like a pretty unicorn's mane and ears looks real cute!
Contact (Jln Besar): +65 62947115 or Whatsapp +65 94272343
Address:
Bugis – 200 Victoria Street, Bugis Junction Level 1 #01-61, Singapore 188021
Jln Besar – 147 Jalan Besar, Singapore 208865
Orchard – 391A Orchard Road, Takashimaya B2 Food Hall, Singapore 238873
Tampines – 4 Tampines Central 5, Tampines Mall #B1-K8, Singapore 529510
Opening Hours: Varies by outlet
2. Shubby Sweets
Another hidden gem, nestled in the quaint Chai Chee's estate!
Shubby Sweets is a homegrown business that curates handcrafted artisanal bakes such as brownies, blondies, cakes and choux. Fun fact, their menu changes every week, so the experience will be different each time you visit!
Contact: +65 8419 9614
Address: 42 Chai Chee St #01-68, Singapore 461042 (Behind Ansar Mosque)
Operating Hours: Wed-Fri 1:30pm to 6:30pm, Sat-Sun 12:30pm to 6:30pm
3. Fitri Creations Bakery
Wondering what better gifts to bring for a house warming for your muslim friends? Fitri Creations is bound to bring a smile to everyone that tried their cakes and pastries. 
From donuts, macarons, cupcakes, waffles, chocolate lava cakes, customized cakes and whatever you're looking for, try searching for them at Fitri Creations Bakery. This place will not fail your expectations!
Contact: Facebook or walk-in.
Address:
Sembawang – 361 Sembawang Crescent #01-02, Sun Natura, Singapore 750361
Yishun – 103 Yishun Ring Rd, Chong Pang City #01-101, Singapore 760103
Operating Hours: Varies by location
4. Fluff Bakery
This halal artisanal bakery has been delivered fluffy (hence the name), delicious cupcakes since its establishment in 2013. Its confections are known to be very popular – everything sells out as soon as they hit the shelves! 
Their signature flavours are Nutella Red Velvet and Salted Caramel but make sure to try locally-inspired infusions like Bandung and Ondeh Ondeh too! Their menu rotates weekly so you'll never run out of new things to try out.
Contact: Whatsapp +65 82511353
Address: 4 Jln Pisang, Singapore 199071
Opening hours: Mon-Sat; 12PM-7PM (Closed on Sundays)
5. Riz Delights
Priginally started out as an online business and Riz Delights have since expanded to having a retail storefront located at Upper Changi Rd in 2014.
Their Classic Cupcakes come in 3 flavours – Moist Chocolate, Red Velvet, or Classic Butter. They also cater to custom or novelty cupcakes topped with elaborate decorations made from fondant. Speak to them today and let them work the magic!
Contact: Whatsapp +65 82696961 or email sales@rizdelights.com
Address:430 Upper Changi Rd, East Village Mall #01-46, Singapore 487048
Opening hours: Wed-Sat; 10AM-6PM (Closed Sun, Mon, Tues)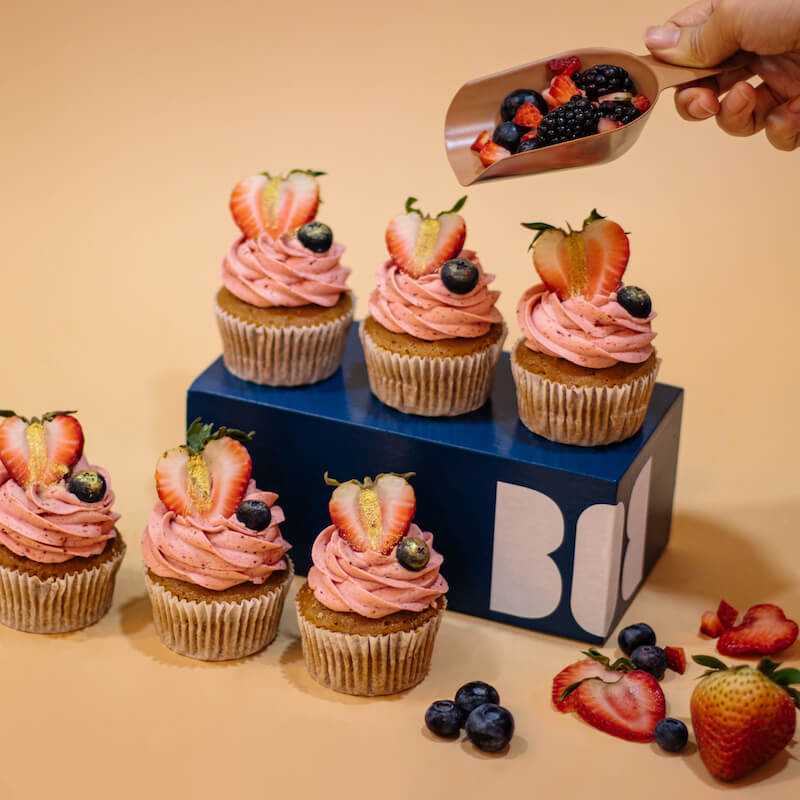 6. Bob The Baker Boy
Bob The Baker Boy truly exceeded our expectations with their wide range of flavours and beautifully decorated cakes. From fancy schmancy larger-than-life cakes to bite-sized baked goodies, there are many options to choose from for any occasion.
Cake delivery is priced from $7.90 if you spend below $150. There's also free island-wide delivery for orders above $150!
Contact: Whatsapp +65 8862 3327 or email hello@bobthebakerboy.com
Address: 369 Sembawang Road #01-03, Singapore 758382
Opening hours: Open from 10 – 5pm Daily, By Appointment Only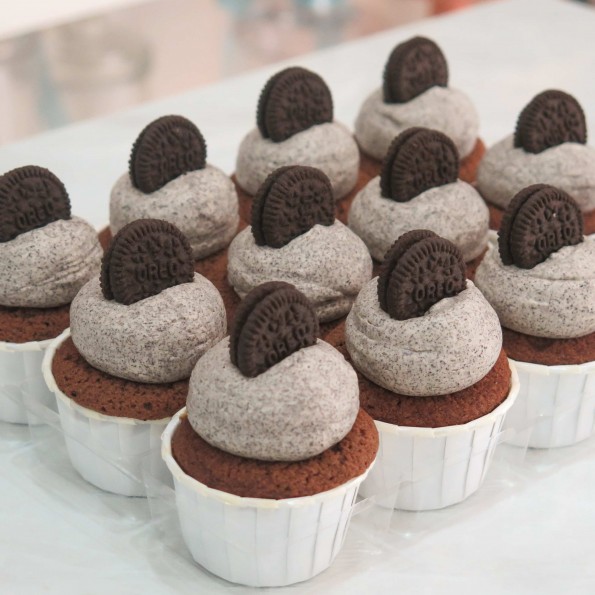 7. The Frosted Chick
The Frosted Chick specialises in customised cakes, dessert tables, cupcakes, macarons, cake pops, cookies and other artisanal desserts. From gender reveal parties, baby showers, birthdays, 21st birthdays, wedding cakes, anniversaries and longevity cakes, to product launches, corporate parties.
From the littlest of bites to the grandest dessert tables, The Frosted Chick strives to deliver delicious happiness to you and your loved ones.
Contact: +65 62503613 or email  info@thefrostedchick.com.sg
Address: 194 Kim Keat Avenue, #01-414 Singapore, Toa Payoh 310194
Opening hours: Open from 10 – 5pm Daily, By Appointment Only
8. Cuppa Cakes
Cuppa Cakes takes pride in bake fresh to order in small batches using only fresh, locally sourced products without emulsifiers, stabilizers or preservatives. 
Imagine a fluffy, extra moist cupcake decorated with just the right balance of rich and creamy frosting. Sinfully delicious? Yes, it is. 
Contact: +65 9006 7868 or email orders@cuppacakes.com.sg
Address: 183 Jalan Pelikat, The Promenade @ Pelikat, #01-05, Singapore Postal Code: 537643
Opening hours: Daily. Hours vary, call to confirm.
Not what you're looking for? Don't mind no halal-certification but no pork no lard?
What about checking out our humble bakery's menu here?