Father's Day is coming up and you've got everything prepared – a nice manly gift and maybe a dinner reservation at a good restaurant — now all that's left is to end the night on a sweet note with a special cake. It will be celebrated on Sunday, June 19, 2022 this year, just in case you haven't got the memo.

1. Ugly Cake Shop
HOLD UP. The reason this cake is featured here, is because it's named "Big Daddy Cake". We kid you not, and we wonder why a big brown cake is named that. R21 jokes aside, this might just be the perfect cake to get for Dad. Oh Father, who knows if his sense of humor allows! 
Contact: +65 8228 8300
Address:535 Kallang Bahru, GB Point, #01-06, Singapore 339351
Operating Hours: Mon – Sat, 9am – 6pm.

2. The Frosted Chick
The Frosted Chick specialises in customised cakes, dessert tables, cupcakes, macarons, cake pops, cookies and other artisanal desserts. From gender reveal parties, baby showers, birthdays, 21st birthdays, wedding cakes, anniversaries and longevity cakes, to product launches, corporate parties.
From the littlest of bites to the grandest dessert tables, The Frosted Chick strives to deliver delicious happiness to you and your loved ones.
Contact: +65 62503613 or email  info@thefrostedchick.com.sg
Address: 194 Kim Keat Avenue, #01-414 Singapore, Toa Payoh 310194
Opening hours: Open from 10 – 5pm Daily, By Appointment Only
3. Creme Maison Bakery
Creme Maison Bakery is one of the top bakeries highly raved among socialites and influencers for it's highly instagramable customized cakes! They're also featured on Straits Times, UW Magzine, Lianhe Zaobao, Prestige and more! 
Established in Singapore since 2014, Creme Maison Bakery has been crafting picture-perfect customised cakes for all special occasions from baby showers, birthday parties, weddings to hens night and more. Check out their extensive portfolio of bespoke customized cakes over Instagram.
Because your party deserve nothing but the best bakes.
Price varies based on the number of serving pax as well as the complexity of the cake design.
Contact: hello@crememaison.com or +65 8181 3689 (WhatsApp only)
Address: 30 Tai Seng Street (Breadtalk IHQ building) #08-03C Singapore 534013
Operating Hours:  Daily from  – (Closed every Tuesday), Sunday from  –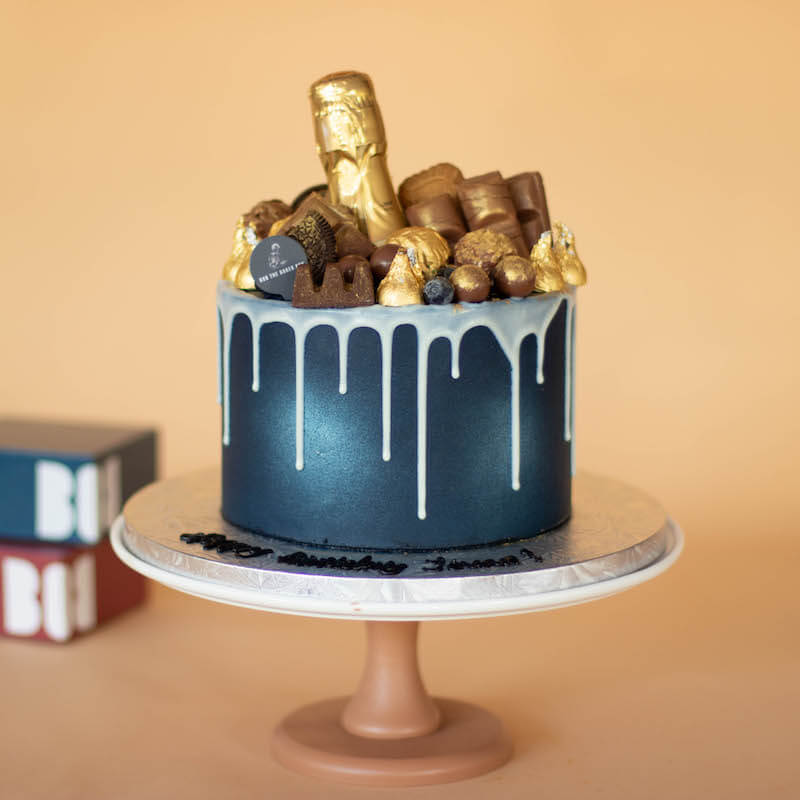 4. Bob The Baker Boy
Looking for something extra special for those that deserve the best things in life? They've got you covered! At Bob the Baker Boy, they pride themselves in curating custom masterpieces that are as scrumptious as they look. What's even better is that you no longer have to fret over designing a personalised cake from scratch!

But, if you prefer to design your own cake, tell them about your dream personalised birthday cake and their professional team of artisans will craft your cake to be unique. Leave the magic to them and they'll deliver your dream cake right to your doorstep!
Prices begin from SGD128
Contact: +65 9499 4015 (WhatsApp Only)
Address: 369 Sembawang Road #01-03, Singapore 75838
Operating Hours: 10 – 5pm daily, by appointment only
5. Baker's Brew
What better cake than one for the Emperor at home?
Baker's Brew is definitely one of the Singapore's leading customized cakes crafters. 
Baker's Brew specialize in modern and creative customized cakes that add a bespoke touch to your special celebration. 
They provide unique customized cakes celebratory occasions, such as wedding cakes, 21st birthday cakes, longevity cakes (Shou Tao Cake), baby full month cakes and even corporate cakes. Whether you are looking for a 2-tier cake or a towering 5-tier, their customised cakes can be made in varying sizes, tailor-made according to your specifications.
Price varies based on the number of serving pax as well as the complexity of the cake design.
Contact: enquiries@bakersbrew.com or +65 8877 8870 (WhatsApp only)
Address: Great World, Paragon, Plaza Singapura, Sembawang, Tampines Mall and Upper Thomson
Operating Hours: Open daily, earliest 10am, latest 10pm. Timing varies with location. 
6. Zee & Elle
At Zee & Elle, they focus on minimalism and originality. As a cake shop in Singapore, their customised cakes not only look good but taste great as well. 
They provide the flexibility to customise your cakes to fit your needs. They also offer various types of celebration cakes that are ready to order and dessert tables that will suit any occasion.
Price from $100, varies with number of cakes tiers and number of servings. $100 is about 6″, 1 tier, suitable for 8 pax.
Contact: +65 6741 4514
Address: 524 Macpherson Road Singapore 368215
Operating Hours: Tue-Sat 10AM-5PM, Sun 10AM-2PM
7. Locaba SG
LOCABA accommodates vegetarians too as they have a vegan cake selection that is free from dairy and eggs. Featuring their Vegan Dark Chocolate Raspberry Cake which is suitable for diabetics, kids, health-conscious individuals, and just about anyone who enjoys indulging in a delicious treat. 
You can also opt for customizing a message on the cake, they caters to both English and Chinese writing.
Do note that LOCABA's cakes are all freshly prepared to order. Hence, make sure to pre-order at least a day in advance if you want to get your hands on their one-of-a-kind delights.
Contact: +65 9793 6557
Address: 2 Kallang Ave #01-08/13 CT Hub Singapore 339407
Operating Hours: Daily 9am to 6pm 8. The Patissier 
Founded in 2000, The Patissier has a French name because they use traditional French baking techniques to create unique and modern cake designs. 
Despite being one of the youngest cake shops on the list, they have proven themselves to be as good as their competitors. They offer various cakes, which include wheat-free options. They also make beautiful cakes for all celebrations and through their website, you can create your own. 
One of their best cakes is the Ribena, which combines four layers of sponge with a special Ribena mousse, sweet cream, and Valrhona Opalys white chocolate. 
Contact: +65 6737 3369 or email enquiry@thepatissier.com
Address: No. 4, Mohd Sultan Road, #01-01, Singapore 238955
Operating Hours: Daily 10am to 5pm
9. The Cake Shop
They have everything you need to sweeten up any occasion, from birthday cakes to cupcakes. Also, competitive prices ensure that you can indulge in the sweetness without breaking the bank. 
Avoid the hassle of getting the cake on your own, they offer same day delivery islandwide all year round.
Head over to The Cake Shop's website, select your desire cake design, flavours, enter your complimentary gift card message, check out the cart and voila, your cake will be delivered right to your doorstep!
Contact: admin@thecakeshop.com.sg
Address:2 Jurong East Central 1, #B1-07 JCube, Singapore 609731
Operating Hours: Daily 10am to 9pm
10. Bloomsbury Bakers
Located at a HDB void deck in Book Keng, Bloomsbury Bakers is opened by two friends who graduated from the famed Le Cordon Bleu London culinary school.
From small tea time pastries to mega customized cakes, the two ladies covers it all. Contact them with your wishes and let them concote the best cake-tail for you.
Price varies based on the number of serving pax as well as the complexity of the cake design.
Contact: orders@bloomsburybakers.com
Address: 30 Bendemeer Road #01-889 S330030
Operating Hours: Closed every Monday. Open from Tuesday to Friday: 11am – 630pm and Saturday and Sunday: 11am – 6pm
Can't decide what to get? What about 100% Mao Shan Wang Durian Cakes? Check out the menu here.