DONUTS.
They might be unfairly slandered as every dieter's worst dream, but if we're being honest, there truly aren't many things more fulfilling than gobbling down freshly made donuts: the kind so doughy and dainty that they practically collapse between your thumb and forefinger. 
So, is it a dessert? Or is it a breakfast meal? I am not too sure where I stand on this debate myself. That said, who cares? The moment you wolf down a savory donut is not only a moment that shouldn't be accompanied by any sort of guilt but is also a moment to savor, regardless of the time of the day. 
With that in mind, from unique takes like stuffed bombolonis with sourdough to local-inspired flavors such as Ondeh Ondeh and Milo dinosaur, here are some of the best donuts you can find in Singapore. 

1) Flake Cronuts
A cronut is what you get when you combine the American donut and classic French croissant to create a meal that's equal parts beautifully fluffy and flaky. How flaky, you wonder? Well, at Flake Cronuts, they fold the dough 27 times to achieve the best crunch before frying the donuts and then piping them by hand. 
Any diner with a sweet tooth will, without a doubt, appreciate this deviance from the norm. Better yet, if you're having a hard time picking a flavor, simply go for Flake Cronuts' Box of 6 Assorted Cronuts, which retails with a wide array of flavors, including Hazelnutella, Compote, Blueberry, Crème Caramel Custard, Cinnamon Sugar, Hojicha, and Tiramisu. 

2) The Fat Kid Bakery
Just the sight of a bomboloni from the Fat Kid Bakery is enough to get your inner chubby kid squealing. Run by Ariel Tang, a self-taught baker, Fat Kid Bakery's sourdough take on Italian-style donuts is slowly fermented for approx. 72 hours. 
The result? A fat chewy pillow of joy that oozes fruity cream fillings such as Strawbery Shortcake, Summerberries, and Calamansi. 
Feel free to dive straight into Fat Kid Bakery's Roasted Oolong and Earl Grey donut if you're a tea lover. These donuts' bitter floral notes nicely balance out all that sugary sweetness.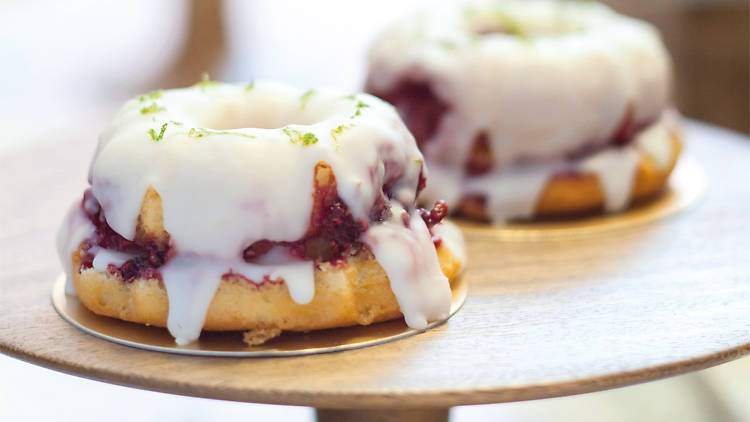 3) Plain Vanilla
Plain Vanilla is mainly known for its delish cupcakes that retail in delicate flavors, but another well-kept little secret is that this home-grown bakery also turns out some of the best dreamily fluffy brioche donuts. 
What's more? Made in limited quantities only three days a week (Sundays, Saturdays, and Wednesdays), these donuts are even available for same-day orders for delivery to your home. 
Plain Vanilla's mainstay flavors include Salted Caramel, Dark Chocolate Hazelnut, Cinnamon Brown Sugar, Red Velvet, and Vanilla Bean Malt (brioche donuts topped with a crumby vanilla bean cookie and filled with milky custard.)
4) Krispy Kreme
Any list of the best donuts in Singapore would be incomplete without the (arguably) OG of the donut scene in the nation, i.e., Krispy Kreme. None of us can forget the crazy queues the American doughnut company and coffeehouse chain caused when it debuted in Singapore. 
For most, the original glazed flavors remain their favorites, though one can't go wrong with an All-American classic like New York Cheesecake or Cookies & Cream. 
5) Baker & Cook
Founded by celebrity baker and Chef Dean Brettschneider in February 2012, Baker & Cook made waves in Singapore straight out of the gate for its delicious, all-hand-crafted artisanal donuts with clean, quality ingredients. 
Their donuts are filled with an espresso-infused custard, deep-fried on both sides, and then glazed with hazelnut crumble and vanilla icing. That explains why to this day, Baker & Cook still attracts crowds hungry for their savory donuts and other dessert pastries. 
6) Doughnut Shack
This delightful bakery is not only a cult favorite but is also home to Singapore's 1st ever chili crab donuts. Would you dare give them a try? If the thought turns your stomach, well, they have plenty of additional gourmet bombos like dulce de leche, dark chocolate ganache, raspberry jam, and more. You could also opt for glazed donuts like Vanilla, milo oreo crunch, or sprinkles. 
Even more delightful, Doughnut Shack changes its menu each month, so in case the March flavors do not float your boat, you could always check back the following month to see what else the bakery has to offer.

7) Haritts Donuts & Coffee
Harrits' donuts are the go-to option for anyone in need of a lighter and fluffier alternative to the American donuts we're used to. Haritts hailed from Japan and started out as a van supplying donuts to office workers all across Tokyo. Not long after that, the business expanded beyond its humble beginnings to become a prominent donut chain with multiple locations in Singapore, Taiwan, and Japan. 
Haritts' employees shape these donuts solely by hand before taking them through a slow frying process. This results in fluffy donuts that are airy and light, just the ingredients required to keep you going back for more. 
8) Doughter Bakery
All about Mochi, Doughter Bakery is a home-based outfit run by a mother-daughter duo. Their batch Mochi donuts have been baked to a crisp on the outsides but are soft and gummy on the insides. Each donut is also glazed with rich Belgian chocolate and then topped with crunchy bites like Ferrero Rocher and caramel crumble. 
While at it, feel free to try out their chewy Mochi Muffins as well. 
9) Delish
Serene Tay, an ex-hotel manager-turned-baker, dubs her bakes at Delish "Pillow Donuts," and the reason is evident. These bomboloni-styled donuts are so soft and bouncy they can cushion your head perfectly. The store's best-selling Durian Pengat pillows are a must-try for every durian lover.
Other dense yet soft classics offered at the bakery include Nutella, Matcha, and Passion fruit Mango. If you're after something tart, go for the Lemon Cream Cheese. 
10) Burnt Ends Bakery
When the mecca for all things smoked meats announces that it's now offering baked meals on the side, everyone better pay due attention and perk up. Better yet, if the eternal praises showered by foodies all across social networks (at least from those worthy or lucky enough to snag a bite of these elusive bakes) are anything to go by, the donuts at Burnt Ends Bakery have won over millions of adoring fans worldwide.
The flavors offered at this bakehouse are nothing too left-wing or crazy (so to speak), but that doesn't detract from their exquisiteness in any sense of the world. The Vanilla Cream donuts, for example, promise (as their name suggests) a vanilla approach to the soft Brioche-based bakes. 
Elsewhere, the Pandan Doughnuts are topped with coconut glaze and filled with pandan cream, while the crowd favorite, a Mix box of 5 assorted donuts, threatens to arrest the attention of this clamoring for familiar flavors. 
Otherwise, you could simply go for Nutella Donuts and have at it while camped in front of your computer at work. 
Can't decide what to have? How about checking out our cakes menu here?
bakery menu