Over time, cupcakes have grown into more than just bake sale fodder. From the $55,000 red velvet cupcake used to propose to a gown made of cupcake tiers, these delicacies have become a food trend that just doesn't show any signs of ever slowing down.
With that in mind, to help you separate the best from the rest, we've crafted a detailed list of the 10 best cupcakes available in Singapore. Every cupcake in the list has been made by talented pastry chefs using carefully selected ingredients, intense flavors, and locally grown ingredients.
Here's top 10 bakeries that serves the best Cupcakes in Singapore.

1. Plain Vanilla
While reviewing things that set Plain Vanilla apart from its counterparts, I came across hundreds of testimonials from previous clients claiming that the bakery offers one of, if not the best, cupcakes in the whole of Singapore. After having the honors of tasting some myself, I'm inclined to agree. 
The folks at the bakery take pride in their choices of high-quality ingredients that include perfectly ripe bananas, bittersweet Belgian chocolate, pure Madagascar bourbon vanilla, French butter, and no artificial preservatives. 
Plain Vanilla is found in the hipster territory of Tiong Bahru Estate, where lots of cafes have been springing up lately, and some of their mainstay offerings include Salted Caramel, Strawberry white chocolate, milk chocolate banana, chocolate hazelnut, red velvet, milk chocolate chip, dark chocolate ganache, carrot, and cinnamon brown sugar.
2. Cupcakes with Love
Simple, Charming, Delectable. These are the words I'd use to describe the cupcakes this bakery has to offer. 
Named Cupcakes with Love for a reason, the bakeshop's unpretentious-looking cupcakes are baked using less sugar but are topped off with a thin layer of frosting. These two techniques coupled together balance the cupcake's rich flavor and wholesome, healthy goodness. 
The bakery will also customize the cupcakes to your liking if you request.
3. Cupcake Engineer
What sets this cupcakes bakery apart from all other options in this guide is that its owners are less interested in winning beautify contests and only care about adding punchy and interesting flavor combinations in all their cupcakes. 
They do not believe in heart-shaped decorations, sprinkles, artificial flavoring, or coloring efforts whose only role is to make the cupcakes look pretty. That implies that everything you see on their cupcakes adds textural balance and/or flavor. 
Also worth mentioning, their cupcakes taste DIVINE! 4. The Patissier
Like with everything else, we all have our tastes and preferences when it comes to cupcakes. Some might prefer theirs light or tea-infused, while others may like theirs heavy, dark, and chocolate. That's where The Patissier's wide selection of cupcakes comes into play. 
Anyone who has visited this bakery's shop knows that they have something in store for everyone, from Mascarpone cheese flavored cupcakes to Earl Grey-flavored chocolate cupcakes. The Patissier also accepts customization requests like most other cupcake spots I've included in this guide. 

5. Whips Cupcakes
One of the many things that keep people going back to Whips Cupcakes is the presence of their mini cupcakes. Measuring 3 cm in diameter and priced at $1 each, these mini cupcakes are incredibly adorable and retail in a wide array of flavors like Triple Chocolate and Marshmallow. 
Customization services are also available to interested customers. 
6. The Ugly Cake Shop
Minimalistic and rustic, The Ugly Cake Shop serves everything but its namesake. From its decadent Vicki salted egg cupcakes to vegan-friendly Zainasaurus chocolate cupcakes, this cupcake shop offers its customers both classic and locally inspired flavors.
Whatever your preferences are, rest assured The Ugly Cake Shop has just the gourmet cupcake for you.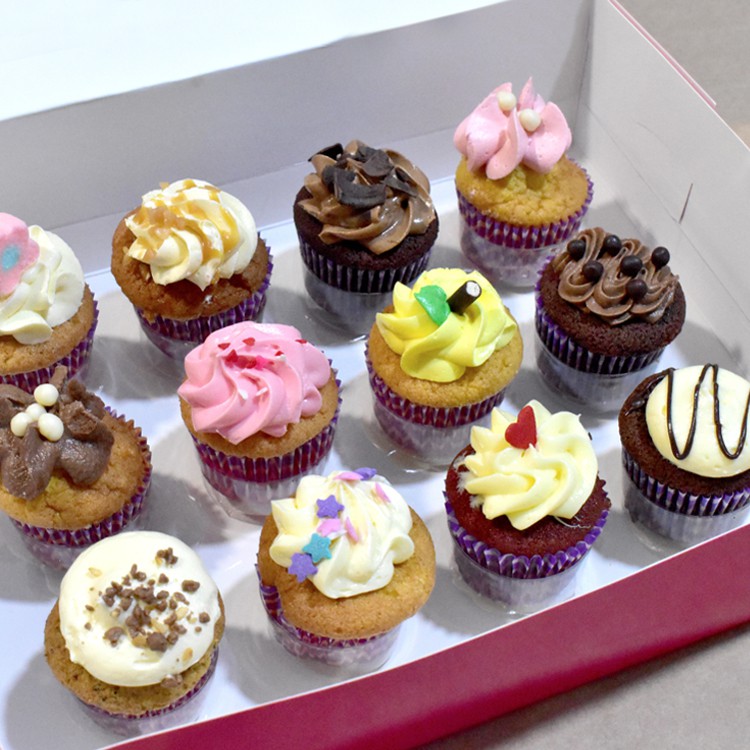 7. Twelve Cupcakes
Any guide on the best cupcakes would be incomplete without Twelve Cupcakes. Also Known as the baby of Jamie Teo and husband, DJ personality Daniel Ong, Twelve Cupcakes is widely regarded as the bakeshop that ushered in the cupcake revolution in Singapore. 
Today, Twelve Cupcakes arguably stands as the most common cupcake shop in Singapore. And from experience, I can attest that most, if not all, of their cupcakes are moist and fluffy with a light, smooth frosting that's pleasing to palate. 
Flavors from Twelve Cupcakes I think are a must-try include Red Velvet, Peanut Butter Chocolate, Salted Caramel, Classic Chocolate, and Raspberry Lychee Rose. 
8. Oni Cupcakes
Oni Cupcakes won a spot in this detailed guide with its wide range of moist cupcake flavors, including the Nutella cupcake (a crowd favorite), Madagascar bourbon vanilla cupcake, the (extremely Singaporean) Mao Shan Wang durian cupcake, and raspberry marmalade cupcake. 
Its delicious flavors aside, Oni Cupcakes' products also qualify as some of Singapore's best because of their striking cupcake designs. The bakery allows you to preorder for special occasions like weddings or birthdays, and they will top off your gourmet cupcakes with designs of your liking. 
From wine and reindeers to Pokémon, their designs are sure to be a hit at any event. 
Speaking of events:
9. Creme Maison Bakery Cupcakes
If you have a huge event coming up, such as a baby shower, wedding, party, or any other large gathering, Crème Maison is the bakery to go to for all your cupcake needs. Why? Well, because they also offer backdrop styling and have a creative team that will work with you to make sure your cupcakes align with your event's fashionable theme. 
Crème Maison Bakery will also present you with several cupcake categories you can pick from including, but not limited to gourmet, floral, and terrarium. 

10. Swirls Bake Shop
A perfect spot for mouthwatering Red Velvet cupcakes, Swirls BakeShop is a pastry shop whose origin traces to the United States. One of the bakeshop's unique selling proposition (UPS) is the generous portions in which it serves its fluffy treats. 
Their cupcakes also retail in 3 different sizes you can pick from. These include the Gobble Gobble (smallest size), the Regulars, and the Colossal (aka the giant cupcakes.) The Gobble Gobble variety is there to allow you to try out multiple flavors without a hassle. 
Besides the Red Velvet flavor they're famous for, Swirls Bake Shop also offers 100 additional cupcake flavors you can try. Even more mind-blowing, Swirls Bake Shop changes its special flavors each month, so if this month's special flavors don't quite cut it for you, feel free to roll by next month and see what the bake shop might have in store for you.
Can't decide what to have? How about checking out our cakes menu here?
bakery menu